Content writing tools for SEO - 2023 "must have" edition

Writing SEO articles isn't an easy thing to do. It takes time, skill, and a lot of patience. So why not use tools to help you in the process? Sadly, these content writing tools for SEO won't write the article for you while you sit back in your chair and enjoy your coffee. However, they can make the whole experience a lot more enjoyable. 
Besides making things easier, SEO tools can also help your articles rank better on search engine results pages (SERPs). So, what are the best content writing tools? The answer is easy: the ones you use the most. You have to consider that not all of these tools are free. So to get the best bang for your buck, you have to ensure they provide something you need as a content writer. 
Which content writing tools for SEO do you actually need? 
Just like with real-life tools, SEO tools have different purposes. Some will help you with your grammar, readability, keyword research, and on-page SEO optimization, while others will work as AI writing assistants, plagiarism checkers, or rank checkers. Do you need all of these tools? Not necessarily. 
However, let's put it this way: Imagine you have to assemble IKEA furniture. We know how frustrating and time-consuming that can be. You have millions of pieces in front of you, and one mistake could sabotage your whole work. But with the right tools and a better understanding of how these tools are used, it's a lot quicker and less demanding. It's the same with SEO articles and SEO tools. The world of SaaS SEO is getting richer every day.
Now that you know what these tools are and how they can help you and your website, let's take a quick tour of the most popular ones. I made a list of my favorite tools and included a short explanation of how they are used. I also made sure to include the plan options and prices. So let's dive in and see which ones would be worth it for you. 
SEO article writing tools you have to have: 
1. Grammarly
Let's start with a classic. Grammarly is not only a grammar checker but also a plagiarism checker and advanced writing assistant. Grammarly will help you polish up your articles, which can improve their ranking. This SEO tool will analyze your writing, improve the readability of your article, and also make sure that you didn't accidentally copy any content. 
There are three different plans for Grammarly: Free, Premium, and Business. The free version checks your grammar, spelling, and punctuation, and has small additional features like tone detection. While these features are nice to have, they won't give you killer SEO. The other two plans are Premium and Business. These plans also offer higher-level grammatical changes, help with the clarity of your text, and tone improvement. The Business plan includes features for teams, organizations, and enterprises. Plans start from $12 a month. 
2. Robinize 
Do you want to invest in just one tool that will offer you many different features that could help your content rank much higher? Then Robinize is the right choice for you. While this is a fairly new content optimization tool, the results that we have seen from it are more than promising. Robinize is an AI-powered SEO content optimization platform that was created by different SEO strategists, content, writers, and software developers who know SEO to its core. 
Think of it as your free SEO writing assistant. He will guide you what to write and help you write it to rank.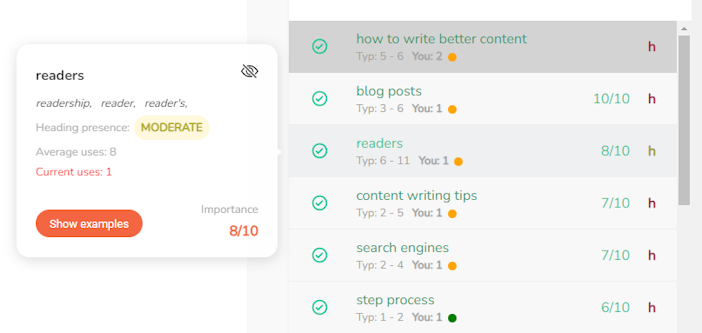 This tool gives first-class recommendations when it comes to content research, optimization, and writing. You won't have to start your articles from scratch anymore, because Robinize will give you just the inspiration the need. You will know where to focus your research, and it also gives you guidelines about the length and structure of your articles. That won't only make the process faster, but it can also skyrocket your ratings. 
Besides delivering quality, this SEO tool also comes at a fair price. The developers wanted to make sure that it would be available for everyone, from startups and freelancers to mega-corporations. When it comes to plans, after a one-month free trial period, you will have the option to choose between two plans: Individual & Team.
Prices start from $19 a month for paid plans. You can save up to 18% on annual plans.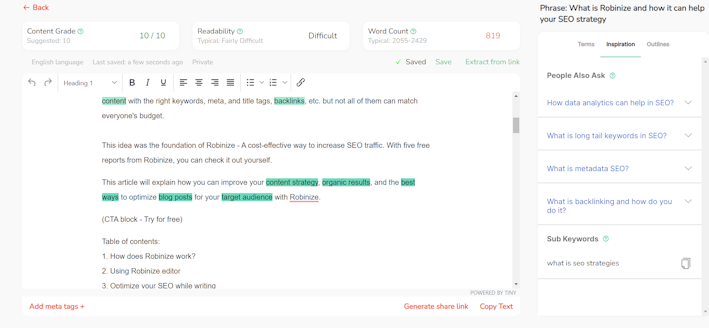 3. AlsoAsked
If you just need some extra help with your topic research, then AlsoAsked could be a great option. AlsoAsked provides you with questions related to the topic you are researching. You can include them in your article to create more informative content. But besides satisfying your readers, this tool will also help you get better rankings. 
This tool maps the connection between different topics and allows you to get a better understanding of what your potential reader would be interested in. The questions can change on an hourly basis because AlsoAsked always makes sure that they follow trends and deliver the freshest results. 
If you are wondering about the price, you can try this SEO tool out for free. Just add your keyword, language, and targeted audience. There are two types of searches available, deep and standard. You get three free standard searches each month, but it's also possible to buy premium plans. Talking of plans, they have three plan options available: Basic, Lite & Pro. Prices start from $15 a month. 
4. MozBar
The MozBar web browser extension is probably one of the best-known SEO tools. This extension is available for Google Chrome and Mozilla Firefox, and while it's mostly accessed via a toolbar, it also integrates into SERPs. There are many different ways to use MozBar. You can use it as an SEO keyword checker, to see important metrics like your website's Domain Authority ranking, or even the Domain Authority Ranking of other websites, the number of backlinks, and more. 
When it comes to price, the MozBar SEO extension is free to download. However, there is also a premium version available, called MozPro. MozPro costs $99 per month, and it will allow you access to Moz's entire suite of tools. If you aren't sure if you need the pro version, you have the chance to try it out for free for the first month, and decide if it's worth it for you. Both versions provide almost the same data, with the pro version having some additional tools, like the Open Site Explorer, or the Keyword Difficulty Tool.
5. Google Trends
Another great tool that can help you with your keyword research is Google Trends. With the help of this SEO tool, you can see which topics related to your keyword are trending at the moment. Needless to say, that can help you create relevant and trendy content. This tool also provides keyword-related data that includes the search volume index, but also geographical information about search engine users. You can follow trends in real-time, and also compare different keywords.
And the best part of this: Google Trends is completely free to use. But while it is a straightforward tool, you have to know how to use it for your specific content strategy. It can also help you recognize seasonal trends, keep your brand relevant in the long run, and monitor your competitors.
This is a great way to improve your content planning and keyword research, as delivering trendy content will improve your traffic. Due to their geographic information feature, you can also predict who your target audience would be, which could be especially useful for marketing campaigns. 
6. Ahrefs
While Ahrefs is mostly known as a backlink authority checker, it can do much more than that. It analyzes your competitors, finds keywords that customers are searching for, explores your content and SEO health, and tracks your ranking progress. Ahrefs' toolset is easy to master, for both beginners and experts. They offer articles, videos, and courses to help you along the way. You have plenty of SEO video tutorials and "How To" SEO guides to watch, and if everything else fails, someone from Ahrefs' Help Center will answer you right away. 
When it comes to the prices of Ahrefs, you can expect them to be high. However, for the service they offer, these prices are reasonable. You have four different plans available, and you can pay either monthly of annually. If you choose an annual plan, you will get two months for free. The four plans include: Lite, Standard, Advanced, Enterprise. Prices range from $99 to $999 for a monthly subscription. 
7. Hemingway Editor 
Everyone who does copywriting for a living knows how important it is to edit what you write. No matter how good of a writer you are, you could still use a little bit of help. And the Hemingway App might be all the help you need. This software tool highlights and corrects grammar, and helps with the fluency and structure of your sentences. 
One of the best things about the Hemingway editor is how easy it is to use. Just copy and paste your writing into the editor, and it's done. Your work has been commented on, and now it is up to you to make the changes that the editor suggested. One of the best features of this app is how much it can improve your writing flow. Smooth writing makes anything more enjoyable to read. 
If you want to try out the Hemingway App, you will be happy to hear that the online version is completely free to use. The developers of this app have also made it clear that they are planning on keeping it this way. However, if you are interested in the desktop version, you are still able to get a great deal. The desktop version is available for a one-time payment of $19.99. 
8. Ubersuggest 
Do you need new keyword ideas? That's where Ubersuggest comes into place. Ubersuggest will help you get a bunch of new ideas once you type in your main keyword. It also provides you with all the necessary data, like the monthly search volume, average CPC, PPC competition, and SEO competition. As a content creator, you know how important it is to choose the right keywords to get the best performance out of your article. By having high-level overview statistics you will know what keywords are worth it for your site. 
You can also scan for prepositions or comparisons that are all related to your keyword. Comparisons are especially useful for article writing, as you can see what Google searchers were comparing your keyword to. Ubersuggest will give you plenty of ideas for your content, and you can create on-trend articles that will bring you a lot of traffic. This keyword research tool is free to use. Just download it as a chrome extension, and it's ready to go. 
9. Semrush
Are you looking for a SEO tool that will increase your organic search traffic? Then Semrush might be the perfect choice. Semrush conducts keyword research, competitor analysis, and does Google Ad optimization. There is a reason why big brands such as Quora, eBay, and Booking.com use Semrush. This tool can help you recognize trends and patterns in your specific niche which will allow you to stay on top of your competition and stay relevant. 
While there is a free version of Semrush available, the functionality of it is pretty limited. However, they do offer a 14-day free trial period, so you can see if the paid version is worth the money for you and your company. When it comes to plans, you have different options available. Prices range from $119.95 to $449.95 per month. However, you can save some money if you opt for an annual subscription.
Bottom line: There are no perfect content writing tools for SEO 
While we tried our best to introduce you to the best content-writing tools, you have to understand that no tool will be an all-in-one magic fix for your website. You still have to do the majority of the work.
However, that doesn't mean that they can't highly improve the user experience and that you won't get a lot of use out of them. They can help you optimize content, get keyword ideas, find out more about your target keywords, work as an SEO writing assistant, and more. 
Some of the optimization features that you get with the help of these tools are your best chance for ranking highly on SERPs. That will give you an increase in organic traffic, which probably is your primary goal.
Tools such as Grammarly also help you find duplicate content, which is a must for copywriting, as plagiarism is always treated poorly by search engines.
As we have already explained, the best tool will be the one you will use the most. Not every tool will be equally as important for every creator.
So take advantage of free trials before you invest in the paid version, and see which of these SEO content writing tools really help you optimize content for your blog posts, social media, or website content.