What are the Keys to Content Optimization?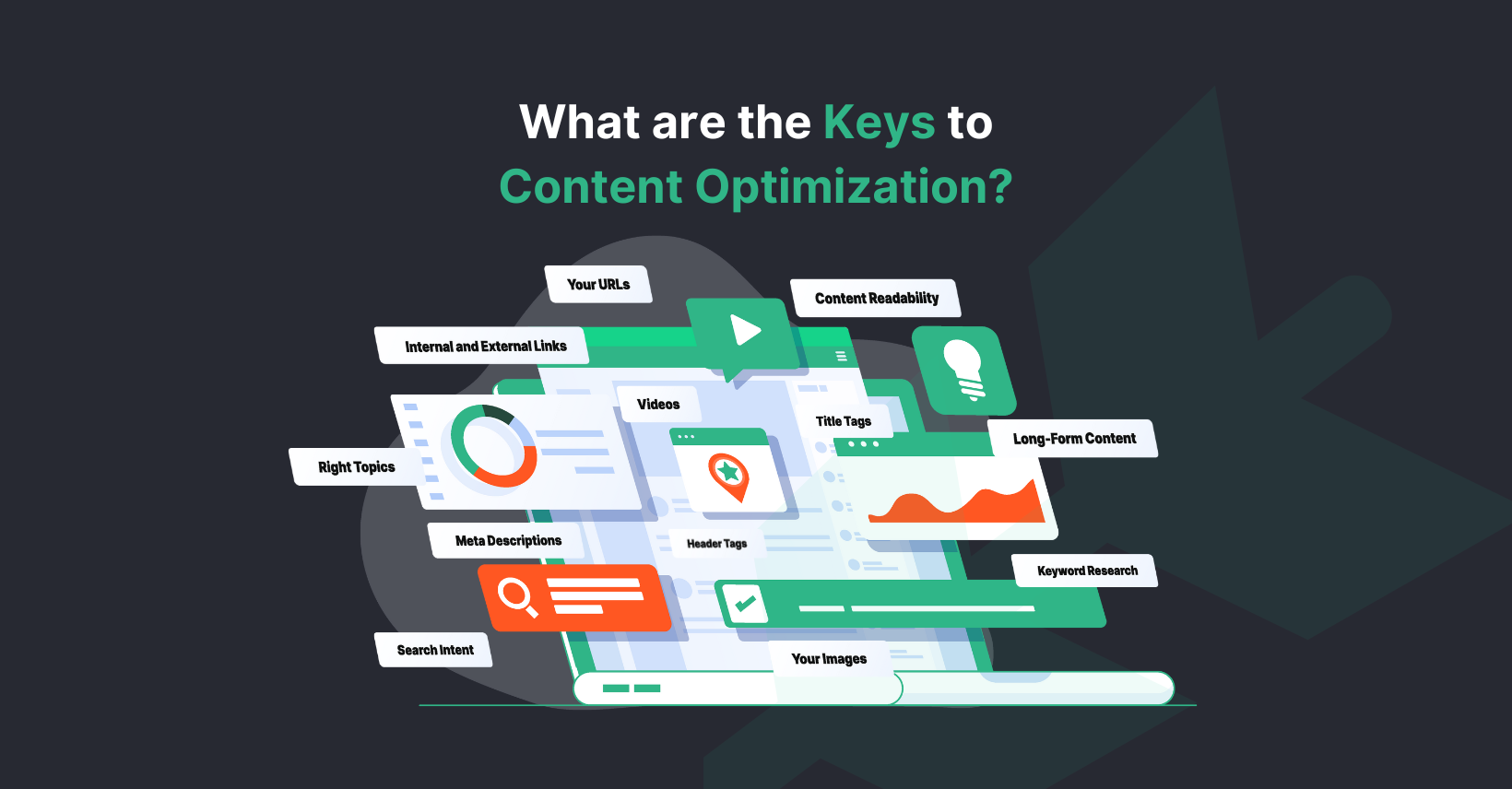 What are the Keys to Content Optimization?
You will often read that "content is king" but how to optimize content to outrank your competitors and drive more organic traffic to your blogs or articles?  In this blog, you will find content optimization tips that can give you the best results.
Content is where I expect much of the real money will be made on the Internet, just as it was in broadcasting.
Let's start with the basics.
What content optimization means? 
Content optimization or SEO (search engine optimization) involves applying content marketing best practices to boost your ranking in search engines so you could reach the largest possible target audience. This is because search engine bots will rank well optimized content higher on a search engine page than non-optimized content. It is important to say that the content optimization processes you use should be tailored to the types of content you are producing. 
Why is it so important to optimize content? 
If you optimize content, you are making it SEO-friendly. Articles with quality content that are not SEO-friendly will have a lower chance of ranking on the first page of a search engine. Therefore, content optimization is important if you are aiming to be noticed by the masses on the, for example, Google search engine. 
Friendly tip: Don't forget to optimize your older content. 
12 Keys to Content Optimization 
1. Choosing the Right Topics 
The first step is probably the simplest and shortest- choosing the right topics. You need to outline the most important topics or categories you want to rank for before you start your content creation. 
How to choose the right topic for your content?
Think of what your customers are most likely to ask you about;

Go through your previous content and see what generated the most engagement;

Think about the news and the latest developments in your industry.
2. Conduct a Keyword Research
Search engine algorithms are changing, improving and becoming more complex, that's a fact. But there is one constant - keywords. Despite all the innovations, keywords remain to be the crucial step to optimization, that is, adapting your texts for search engines in order to rank as well as possible and gain an organic advantage.
Niche keyword research will help you discover keywords with low competition, decent traffic and business potential for your company.
3. Identify Search Intent
Search intent (or user intent, audience intent) is the primary goal a user has when typing a query into a search engine. If you do not know what exactly most people are thinking while typing some search terms, the chances that you are targeting the wrong keyword are highly likely.
4. Optimizing Your Title Tags 
When it comes to website optimization, one of the most important elements is the title tag (often called page title or meta title).
The title tag appears with the result of the SERP (search engine page results page) as the clickable headline. It tells the audience what the page is all about in just a few words. It also tells search engines how relevant your page is to a searcher's query.  
Tips for title tag optimization:
Use relevant keywords at the beginning of the title tag;

Keep title tag between 50-60 characters;

Make a unique title for each page.

5. Optimizing Your Meta Descriptions 
A meta description is an HTML tag that provides a brief explanation of the content on your web page. A meta description is actually a short summary of the web page and appears in the search results below the title tag. 
Tips for optimizing meta descriptions:
Keep meta description between 140-160 characters;

Briefly state the purpose of the content page;

Include your relevant keyword;

Write a description that drives clicks;

Add a captivating call-to-action using strong verbs such as 'reveal' or 'explore'.

6. Optimizing Your URLs 
A lot of people put a lot of effort into the title tag and Meta Descriptions forgetting about the URL optimization. This is such a shame, as URL provides the search engine an insight into the credibility.
Tips for URL optimization: 
Keep your URLs meaningful;

include a relevant keyword;

add long-tail keywords when appropriate.
7. Structure Your Content with Header Tags 
Header tags (or heading tags) are HTML tags used to separate headings and subheadings on your page. Headers, depending on their importance, which is defined by the number next to the letter H, are displayed in different sizes. The titles with the smallest number are the largest, and the ones with the largest number are the smallest. H1 is the main heading- usually the title, while H2-H6 are sub-headings.
Search engines love big texts. Headings are important so readers would easily navigate through your content. Also, their proper use will increase the likelihood that people will read your article. By using relevant keywords in your headings, search engines will better understand the structure of your article.
Pro tip: the keyword you choose should be at the very beginning of your header.  
8. Adding Internal and External Links
Internal and external links also play a great role in SEO. By including Internal and External Links your content will be recognized as a credible reference.
Internal links take users to other related content within your site. They are important because they tell bots that search your website where to go next. They navigate them through the pages and actually guide them through the structure, thus helping them better understand what your website is about. 
External links lead users to a different website. External links bring strength and credibility to your site, and especially to the page they link to. 
9. Optimizing Your Images 
Thousands of visuals, both static and animated, appear before our eyes every day, which is why image visual content should not be neglected. Your site is more attractive because of the images. However, without proper optimization, you lose the valuable effects that SEO brings. 
Image optimization has many advantages such as:
Better user experience;

Faster web page loading;

Better ranking of sites in text and image search of online users. 
Best practices for optimizing images: 
Choose the dimensions of the images and the angles from which the product was photographed wisely;

Use original, high-quality images; 

Name the images descriptively and in simple language;

Carefully optimize the alt tag (also known as alt text and alt descriptions);

Compress your images before uploading them to your site;

Choose the best image file type.
Here are the most common file formats for the web:  
JPEG: Great for a wide range of color, shadow, and high-resolution images. 

PNG: When we talk about images in PNG format, we usually talk about graphics, ie. vector photography. In that case, PNT is the best choice because JPEG could reduce the quality of the graphics. 

WebP: Produces high-quality results with smaller file sizes. Nonetheless, only Firefox and Chrome support this format

GIF: Great for small image file sizes. GIF images have lower quality than JPEGimages. They are used for simpler images, such as icons and images with several colors. However, GIFs are not the best option for complex images and photos. 
Pro tip: Relevant, unique visual content can lead to social shares and motivate your readers to read the text you wrote. Choose them carefully.
10. Optimize Videos 
Video is the most powerful medium that conveys certain information or messages the best. The very existence and use of videos affect the SEO of the sites and help them rank better in search results. Video optimization is can maximize the site ranking and increase traffic. 
How videos affect SEO 
Google loves content with a combination of text, photos and videos;

Videos increase dwell time and reduce bounce rates;

Sites with videos have been shown to have higher conversion rates, which also improves their position in the SERP (Search Engine Results Pages). 
Best Practices for Video Optimization:
Creating a video sitemap
A video map is a sitemap with additional information about the videos posted on the site. Creating these maps is a great way to help Google's algorithms find and understand video content, especially content that is new and harder to find with common mechanisms.
Naming video files with relevant names
Video files should be properly named with appropriate keywords and phrases before they are embedded on sites.
Adding a transcription
By adding a transcription you help search engines understand what it's all about. A page containing a video transcript increases the number of words on the landing page and looks like a long blog post.
Using appealing thumbnails
Thumbnails on videos should clearly show and explain what the video is about and instantly lead visitors to click and look at it.
Using video tagging (video schema markup)
Use of video schema markup is recommended. This will make it easier for Google to find the video, understand what it is, display it faster in the results of the "Video" section, and consequently increase the importance of the entire site.
Adjusting the video duration
Keep videos shorter than 3 minutes.
Optimizing videos for faster uploads
Videos should be compressed in a way to be as small as possible but to maintain good quality. This will load them faster, which is very important as visitors skip videos that load slow.
Embedding YouTube player
Research shows that pages with a built-in YouTube player are displayed on average two positions higher in search results.
Pro tip: Videos with testimonials from customers who bought your product or service are a great way to establish trust.
11. Writing Long-Form Content
The minimum length of the Long-Form Content is between 1,000 and 2,000 words. The stereotype that no one likes and reads long-form content pieces on the Internet has been accepted because: 
of the vast amount of information we are exposed to, 

of the 8-second attention span, 

we pay  37 seconds of attention to one piece of content before we leave the web. 
Why is Long-Form Content important?
Social Shares  
Free online long-form content is a fantastic way to increase the value of your brand and business. It can also grow the number of your newsletter subscribers and followers on social media. Moreover, a study conducted by analyzing 100 million articles showed that long forms have more shares on social media.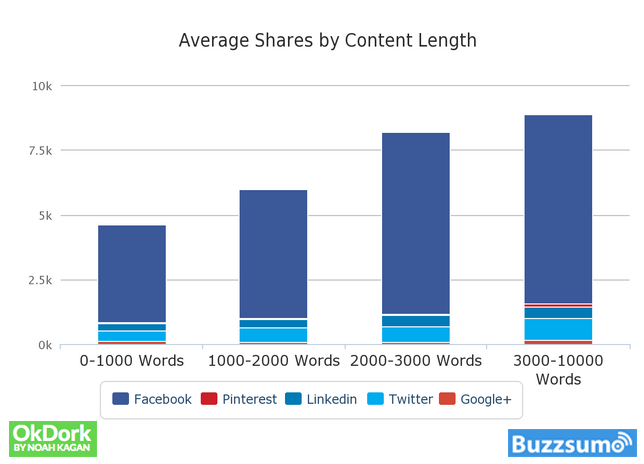 Photo: okdork.com
Greater Audience Engagement 
Readers spend more time on long-form content pieces. It is true that long forms require more time to read, but the difference from other content pieces is in the audience engagement, as well as the number of views and shares. 
Pro tip: Create engaging and helpful content and update information regularly.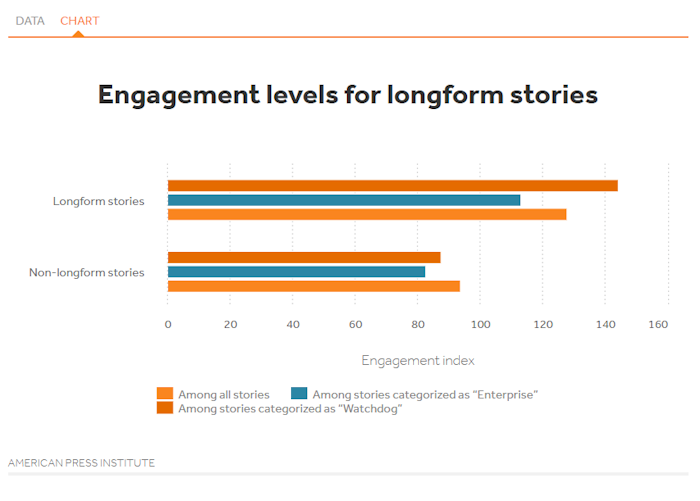 Photo: American Press Institute 
12. Optimizing Content Readability 
Readability measures how easy you can read a piece of text. Your audience will easier consume and understand readable content. To put it differently, complex sentences are harder to digest. This is why it is important to optimize content readability.
Here are some tips to make sure you have good readability:
Use words that are simple to understand and avoid complex words;

Avoid passive voice;

Avoid long sentences with many subordinate clauses and conjunctions;

Try writing at an 8th-grade reading level;

Use bullet points to highlight important information;

Use font styles that are easy to read.
Conclusion
To sum it up, content optimization will help search engine users find you easier. Try using the combination of tips shared above to give you a kick start. Have in mind that you optimize for the search engine, but write for the people. 
 Want to write and optimize your content faster? Try Robinize today!