What is Robinize, and How Can it Help Your SEO Strategy?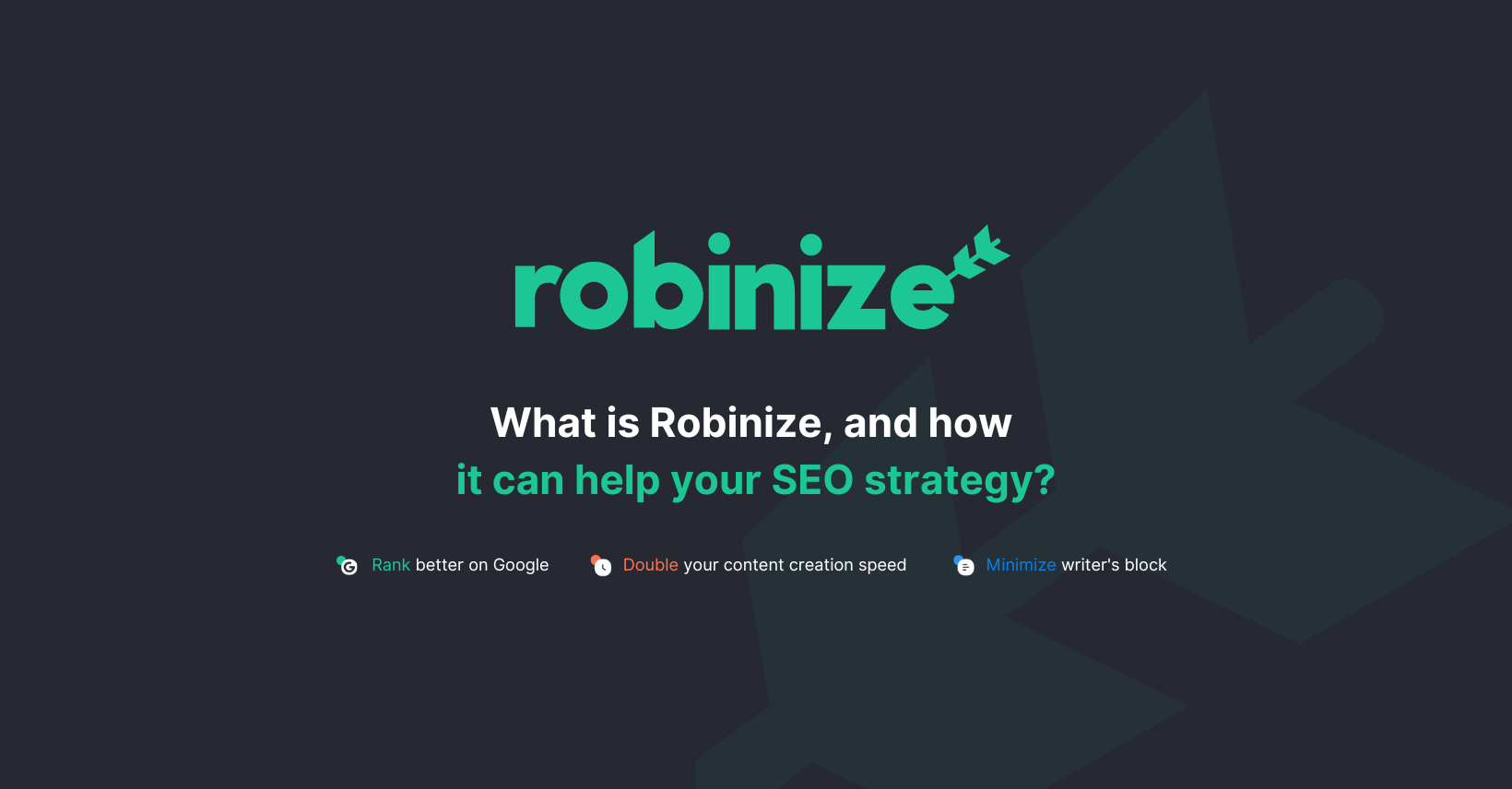 Robinize is an AI-powered SEO content optimization tool that helps you research and writes your content faster. This SEO tool combines content marketing and keyword research and assists you in writing great content.
Search engine optimization tactics are changing non-stop. Staying on top of user intent and search engine preferences is not easy.

There are a number of tools out there that can help you write original content or optimize existing content with the right keywords, meta, and title tags, backlinks, etc. but not all of them can match everyone's budget.

This idea was the foundation of Robinize - A cost-effective way to increase SEO traffic. With five free reports from Robinize, you can check it out yourself. 
This article will explain how you can improve your content strategy, organic results, and the best ways to optimize blog posts for your target audience with Robinize. 
Table of contents:

1. How does Robinize work?
2. Using Robinize editor
3. Optimize your SEO while writing
4. Why choose Robinize?
How does Robinize work?

Understanding how to use the Robinize report generator is essential to getting a good ranking and writing relevant blogs. 
The first step is to enter the phrase that you want to rank for. Furthermore, you need to choose the country where you want to rank and the language of your article to optimize for your local SEO. 


When you have adjusted these parameters, you can click on the "Generate" button.
Robinize AI will crawl the web, analyze top results for your search term, and create a new report. 
If you click on the generated report, you can see top-performing related keywords.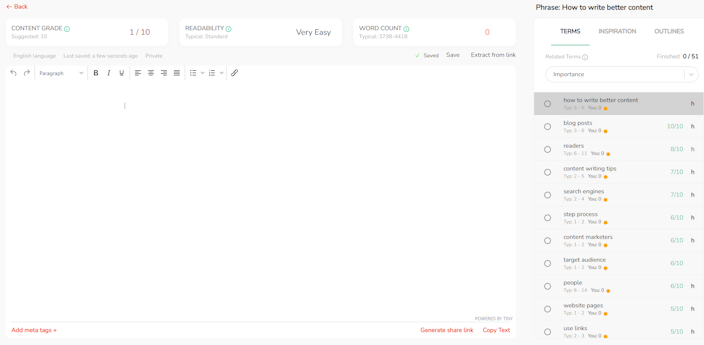 In the inspiration section, you can see the related questions readers google. If you answer those questions in the article, you have a higher chance of ranking in the "Google snippet" section. Additionally, Robinize will show you a list of sub-keywords with decent search volume that you can rank on the first page of Google.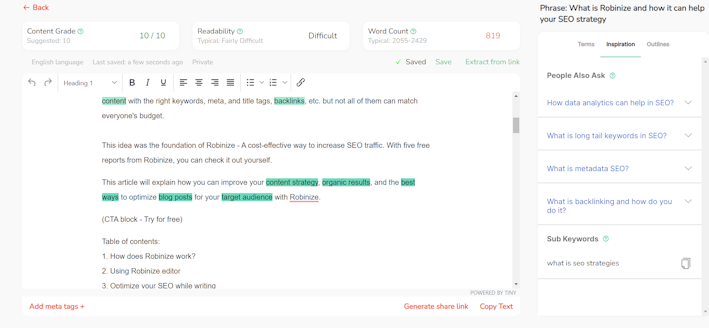 In the "Outline" you can see the current web pages ranking on the SERP for your search term.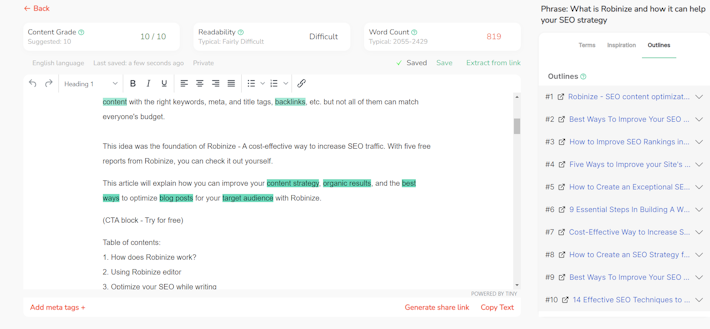 After this, you're all set to start creating your SEO-optimized content that will drive potential customers and improve your online presence.
Using Robinize editor
This part is the most important for writing SEO-optimized blog posts and content.
On the top bar you can see a real-time evaluation of your content. 


Here is what the information means:

Content grade:
Content relevance is measured by the use of the recommended terms from the related terms section.
Readability: 
Measures text comprehensiveness by using Flesch reading ease
Word count: 
Number of words in your article
Now you're all set the create the content that will skyrocket your user experience!
Optimize your SEO efforts while writing
The best practice to improve your content SEO is to follow Robinize tips from the "Terms" to cut the optimization time. 
When you click on a search term in the terms section, you can get info on the best ways to incorporate keywords into your article.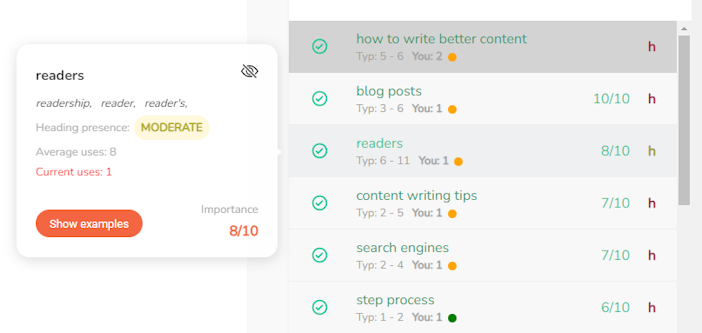 Here you can find the following info:

Heading presence
Describes how often the search term appears in H-tags
Average uses
Describes how many times on average a keyword occurs in the top SERP articles.
Current uses 
Describes how many times you've used the keyword in the article. 
Importance
Describes how important the keyword is for your article on a scale of 1-10.
Show examples
When clicked, you can see examples of usage of the search term in a sentence.

With that, we have covered the ground features that Robinize offers. 


Why should you choose Robinize?
You might be wondering, how is Robinize different from plenty of SEO tools that help you optimize your content strategy out there? 

As content writers ourselves, our dream was to have a seamless process that will cut time and give us betters results in optimizing the user experience on our websites and make it easier to optimize new and existing content.

With Robinize you can: 

Rank better on Google
Double your content creation speed
Minimize writer's block
Drive more organic traffic
Make your content Google-friendly
Improve the quality of your existing content
Spend less time researching 
Wrapping up
Content writing is a discipline that requires time, learning, and adjustment to the industry requirements. With search engines having more and more changes to serve relevant content and match user intent, it is getting harder to rank higher. Using a tool like Robinize while creating content can help you:

1. Improve your content strategy
2.  Match user intent and improve user experience
3. Drive more traffic and generate more sales organically

On top of that, you can always be up to date with the latest SEO trends and get better results for any projects.

Make sure to give it a go!